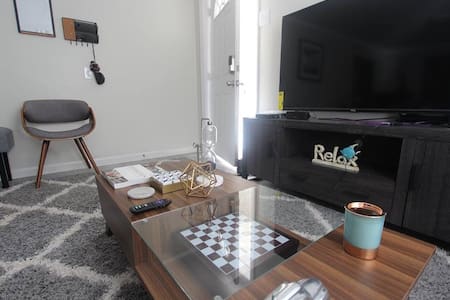 SUPERMAJUTAJA
Kogu korter · 5 külalist · 3 voodit · 1 vannituba
The Hidden Cove +5, Fast wifi, Beach tags, Netflix
Entire first floor of duplex w/ own entrance, this home is newly renovated and very modern. a short walk to the beautiful beach, and a short drive to the casinos, Stockton Atlantic City Campus, fine dining, the convention center, boardwalk hall and the walk in AC. The home can accommodate 5 guests, with two bedrooms each containing a queen bed and one couch that folds down into a bed.
SUPERMAJUTAJA
Kogu ridaelamu · 10 külalist · 8 voodit · 3 vannituba
❤️❤️❤️The Top End Townhomes! Stunning & The Best!!
Experience a Fun, Exciting, & Romantic Getaway in a beautifully appointed Luxury Townhome, the TOP END TOWNHOME! The Top End Townhome has a One-Of-A-Kind Rooftop Deck with unforgettable views both day and night! The Deck is also a great place to enjoy a BBQ with family & friends! The Top End Town Home even has a fun ELEVATOR! It's very close to the Beach/Boardwalk and only minutes from the best Casinos, Shopping, Golfing, Entertainment, Restaurants and Conventions Atlantic City has to offer! ❤️